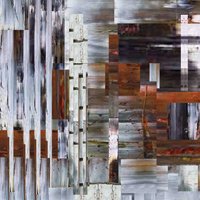 Mike Tamburo is back again picking, droning, buzzing and rocking with the biggest line up of the Universal Orchestra of Pituitary Knowledge (his backing band). Collaborators on this project include Ken Camden (Meisha), Keenan Lawler, Brad Rose (North Sea, etc.), Jeff Komara (Arco Flute Foundation, Air Guitar Magazine), Matt Mcdowell (Nux, Arco Flute Foundation), Pete Spynda (Meisha, Arco Flute Foundation, Air Guitar Magazine), Bryan Camphire (Bloody Panda), Blake Mcdowell (Bloody Panda), Wilson Lee (Fathmount), John Fail (Lied Music, etc.), Tusk Lord, Nick Schillace, Charlie Vinz (Head of Femur, STMonroe, Bobby Conn Band).
ìThe Ghosts of Marumbey were born in a dream. Most interesting things areÖimplanted in our minds, intentionally or not, signposts pointing to anywhere. Mike Tamburo has spent the last few years searching for Marumbey in every nook and cranny of this fucked up beautiful country, and in other places, too. Under the rugs and behind the couches, out back behind green gardens and underneath gray-gold branches of sunkissed forest. Or maybe it was just here all along, invisible to the touch but breathingÖthe lives of so many that have come before. This is the sound of a place that never existed but still pulses with bubbling, mutating life. This is a ballad for a battle never foughtÖa dream never-endingÖ" Lee Jackson.
Co-released With New American Folk Hero.