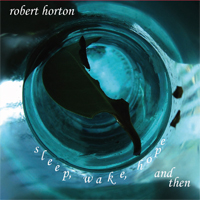 Sleep, Wake, Hope, and Then are the most recent pieces by Robert Horton, striving to create an album full of recordings that shimmer and change the light.
On two pieces Horton enlists the magic of gong-ologist and percussionist Dean Moore. Dean is a hidden treasure who lives and plays in Seattle and is a member of the group Yuan, along with Horton, Michael Shannon and Edward Guerriero.
The rest of the pieces are Horton conjuring spirits with his homemade instruments, teasing objects with contact microphones, squeezing tones till they splinter into high harmonics and weaving webs of fractured bytes into modal vodka.
Horton's has performed and recorded for almost 30 years in a variety of outlets. He founded the Appliances, part of SF's first wave of punk bands in 1979, and formed the tribal noise drone group Plateau Ensemble in 1983. Since then, he has been a prominent contributor to the last two revolutions in home recording, both the cassette culture of the 80s and 90s and the CDR zeitgeist of the 00s.
Robert records under his own name, Egghatcher, and Future Ears. He is currently a member of Kyrgyz, Beautiful Friend, Infinite Article, Broken Mask, and the duo with Tom Carter.